Container Ocean Transportation Services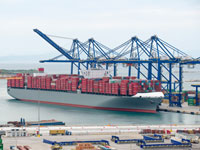 Our containership services are used to transport a diverse range of products that are closely related to people's lives from general consumer goods to parts and raw materials. Containership services are offered worldwide through the four hubs of Japan, Asia, Europe and North America, which we position as a core "K" Line business. We have established world-class alliances with shipping companies in China, Taiwan and South Korea and operate main East-West routes between Asia and North America, Asia and Europe, and Europe and North America. In addition, we also offer the intra-Asian routes covering the Middle East and the Indian subcontinent, and the South-North route linking South America, Australia and Africa with Asia and other regions.
"K" Line is a global carrier that boasts a fleet of approximately 70 ships as of  March 2015 and are systematically upgrading our fleet.
High-Quality Services Aim to Raise Customer Satisfaction
"K" Line's containership transport services are distinguished by high-frequency and stable schedules and high-quality service. By focusing all of our energies on meeting diverse customer needs, we have established a solid reputation among leading companies around the world, several of whom have named us Carrier of the Year. "K" Line services are also characterized by its own infrastructure, including the operation of container terminals—the link between marine and ground-based transportation—in Japan, the U.S. and Europe, and two-level, special-purpose trains known as double-stack trains in North America.
Safety in Navigation and Consideration for the Environment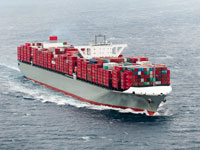 The most important mission of a transportation carrier is to deliver the freight entrusted to it by its customers to the destination safely and in the same condition it was received. In addition to transporting general container freight, we provide technical support to customers for transporting hazardous materials and over-sized items that cannot be stowed in containers to ensure integrated and safe marine and onshore transport. We also strive to protect the global environment by taking measures such as fuel-efficient cruising to reduce greenhouse gases emitted by ships and using onshore power when ships are docked at our terminal in Long Beach, California to eliminate fuel consumption by our ships.
Reinforcement of the CKYH Green Alliance
Subsequent to the CKYH Green Alliance that "K" Line established in 2003 with COSCO (China), Yang Ming (Taiwan) and Hanjin Shipping (South Korea), a new member, Evergreen (Taiwan), joined the alliance in 2014, and we are now operating as CKYHE Alliance. Operations under the alliance scheme will further deepen our cooperation mainly on East-West trades (Asia-North America, Asia-Northern Europe and the Mediterranean, and the Atlantic routes) and will improve service quality by optimizing ship deployments and port-coverage of each service loop to better cater to customer needs. We are also working to secure terminals at major ports around the world and establish feeder networks to expand the alliance's service network and enhance service quality even further.
Deployment of Fleet Utilizing State-of-the-Art Containerships
Five 14,000TEU newly-built ULCVs (Ultra Large Container Vessels) are planned to be launched from Spring 2015. These new mega-size container ships with economical features shall replace current medium-size container ships, aiming for service efficiency, as well as cost competitiveness in the shipping market. Furthermore, an additional five are to be launched in 2018, making our mega size container fleet a total of 10 vessels, in order to stabilize our long-term profit making structure.
Click here to see some of the Awards for service excellence presented to "K" Line for our Container Services.